Missouri Dinosaur

Guy directs the excavations at the Chronister dinosaur site in southern Missouri. The most recent find is a portion of the jaw from the dinosaur Hypsibema missouriense, a hadrosaur or duck-billed dinosaur. Working with the Missouri Ozark Dinosaur project, Guy and his crew have found the remains of other dinosaurs, turtles, fish, and plants. Many of these finds are on exhibit at the Bollinger County Museum of Natural History. Guy is coauthoring a paper on the site with paleontologists from the New Jersey State Museum.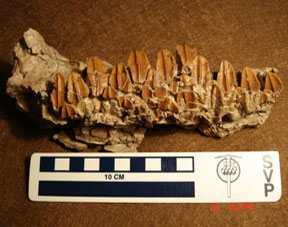 This is a portion of a hadrosaur jaw that was found at the Chronister site. It was originally found in small fragments and took many hours to assemble. The jaw may be from the dinosaur Hypsibema missouriense.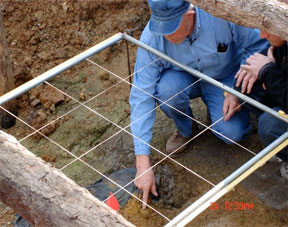 Mapping the fossils from this site is very important, here Guy points to a hadrosaur hoof that has been mapped and is ready for removal.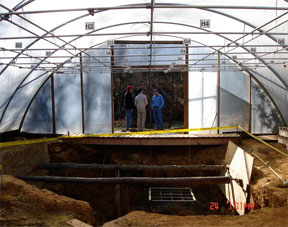 To keep out the weather the excavation site is covered with a greenhouse. Notice the hanging grid system that allows us to do accurate mapping of the fossils.